Genesis White Glove Service
The Stress-Free Switch
Switch to Genesis 66% faster.

Keep your staff focused on learning, not data entry.

Avoid data entry mistakes.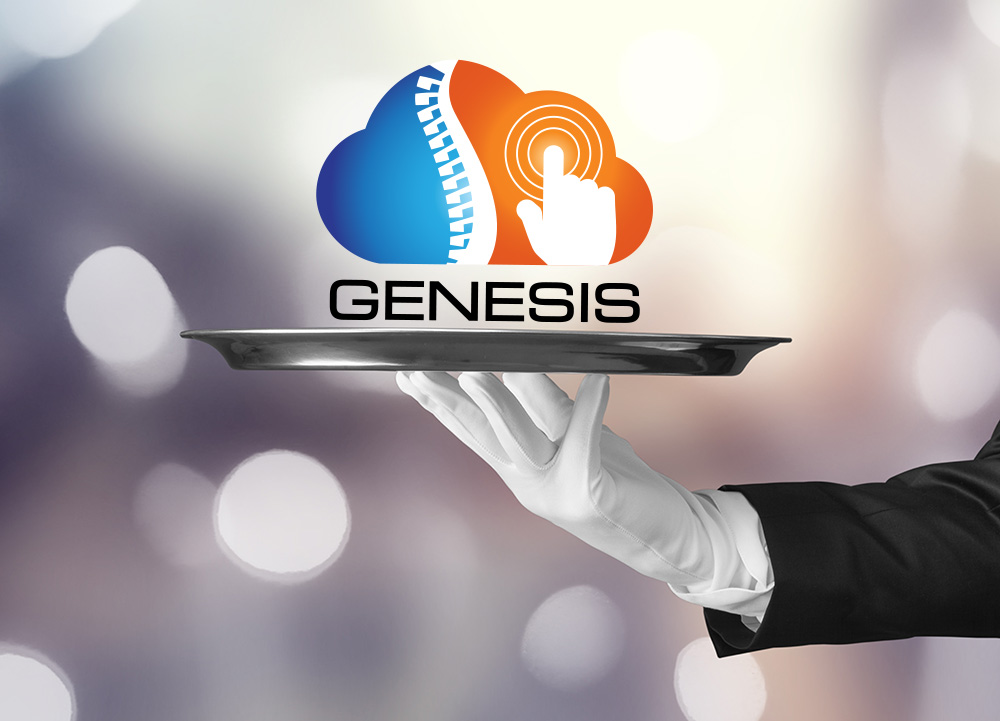 Switch To Genesis In Easy 3 Steps
Step 1
Sign up with Genesis.
Schedule a demo and sign with Genesis.
Step 2
Train on Genesis while we do the heavy lifting.
See what data we can transfer below.
Step 3
Go live with Genesis
Once you go live we will hold your hand making sure you are getting the most out of your investment.
THE GENESIS PROMISE
Why We Created the White Glove Onboarding Service
In the bustling world of chiropractic practice management, time is precious. Each moment counts and any disruption could mean the difference between a regular day and a backlog of patient appointments. You crave the efficiency of modern systems, the robust capabilities that make your practice soar, but the daunting task of switching EHRs looms large. We understand the sleepless nights worrying about the technical complications, the potential hours or even days of downtime, and the unsettling fear of the unknown.
That's where Genesis' White Glove Onboarding Service shines. We didn't just create it; we meticulously designed it as an antidote to the stress of system transitions. It's more than just a service - it's a commitment, a promise to turn your anxieties into reassurances. Our mission is to remove the barriers you may face during this pivotal shift, equipping you with the tools to confidently navigate towards an improved practice management experience. With Genesis, you're not just switching systems, you're embracing a future of seamless, stress-free, and advanced practice management.
Our Comprehensive Data Transfer Process
Our White Glove Onboarding Service provides a meticulous and comprehensive data transfer process. We cover all critical areas to ensure a smooth transition to our platform. Here's a detailed look at each aspect:
Demographics
We painstakingly carry out manual patient-by-patient entry, ensuring all demographic data is accurate and up-to-date. This includes payer info if the card is in the patient account.
Ledgers
Financial records are integral to your practice, so we transfer all patient responsibility ledgers. We enter a line item indicating a credit or balance to help you know when to stop patients for a review of their finances.
POS Items
Any Point Of Sale items associated with patient transactions are also moved to ensure a complete financial picture in the new system.
Payer Information
Payer information will be moved from your old system to Genesis.
X-Rays
As part of the transition, we migrate the three most recent X-Ray files per patient. If your practice requires additional X-Ray files to be moved, do let us know and we'll accommodate.
Fee Schedules
Our technicians will shift over 35 of your most commonly used codes and charges. This ensures that your most important fee schedules are ready to use as soon as you make the switch to Genesis.
Scheduling
To ensure a seamless transition and no disruption to your practice, we will transfer all future visits to your Genesis Calendar.
Our thorough approach to data transfer minimizes the chances of any critical data being left behind, ensuring a complete and efficient transition for your practice. If there are additional data elements you'd like us to transfer, we're here to accommodate and ensure your new system is ready to go from day one.
DISCOVER THE GENESIS ADVANTAGE
Streamlined Onboarding with Exceptional Benefits
Switching to Genesis through our White Glove Onboarding Service offers a slew of compelling benefits designed to elevate your practice management experience. We've meticulously crafted this service with the understanding of the unique challenges faced by chiropractic practices during a system transition. It's about more than just moving data—it's about offering peace of mind, ensuring continuity in your service delivery, and propelling your practice to new heights of efficiency and patient satisfaction. Here's how our service makes the difference:
No Downtime
Keep your practice up and running during the transition. We ensure no interruption to your workflow.
Expertise at Your Service
Our experienced data transfer technicians are well-versed in numerous practice management and EHR systems. Rest assured that your transition is in expert hands.
Seamless Data Transfer
From demographics to X-rays, ledgers, fee schedules, POS items, and scheduling, we've got you covered. Your data will move securely and smoothly to Genesis.
Cost-Effective
With our White Glove Onboarding Service, you'll save on potential lost revenue due to shutdowns and lessen the burden of needing in-house IT experts for the transition.
Focus on Patients
Minimize distractions from administrative tasks and maximize your focus on patient care.
PRICING
Unlock Your Customized Pricing Now! Don't Miss Out on Our Unbeatable Value for Superior Efficiency!
At Genesis, we understand that no two chiropractic practices are the same, which is why we've made our White Glove Onboarding Service as flexible as possible. We offer customized pricing, tailored to the specific needs and requirements of your practice, ensuring you only pay for the aspects of the service you need to utilize.
While the pricing is dependent on your unique needs, when averaged out, most practices find the cost per patient to be just a few dollars - a remarkably small investment for a streamlined transition and advanced practice management.
To discuss your needs and determine the most accurate, fair pricing for your practice, we invite you to schedule a consultation with our team. This will allow us to better understand your requirements and provide a price that reflects the true value and benefits of our service. Make the move to Genesis today and experience the difference.
Don't Get Left Behind in Outdated Systems - Unleash Superior Efficiency with Genesis Now!
Stuck in the past with outdated systems? Your practice deserves better. Genesis' White Glove Onboarding Service doesn't just change your software - it catapults your practice into the future of efficiency.
Don't miss out on the opportunity to save time, increase patient interaction, and enjoy a seamless transition. The clock is ticking and every moment you delay, you're sacrificing potential growth.
FAQ
Frequently Asked Questions
How secure is the data transfer process?
Our data transfer process is extremely secure. We use state-of-the-art encryption technologies during the extraction, transition, and upload stages to ensure your sensitive practice and patient data is fully protected.
What if our practice uses a system your technicians are not familiar with?
Our team of technicians has a wide range of experience with many different practice management and EHR systems. In the unlikely event that we encounter a system we're unfamiliar with, we are quick learners and will work diligently to understand the system to ensure a seamless transition.
Will there be any downtime for our practice during the transition?
Absolutely not. Our White Glove Onboarding Service is designed to allow you to continue operating your practice without any interruption. Our technicians handle the transition in the background while you carry on with your normal operations.
How long does the whole transition process take?
The duration of the transition process can vary depending on the size of your practice and the volume of data. However, we aim to make the process as quick and efficient as possible, and we will provide you with a projected timeline before we begin.
Can we request the transfer of additional data or files beyond what's listed?
Yes. Our goal is to make your transition as comprehensive as possible. If there are additional items you need to be transferred, please let us know and we will do our best to accommodate your request.
What support is available to us during and after the transition?
We offer ongoing support to ensure a smooth transition and beyond. Our dedicated support team is available to answer any questions and resolve any issues you may have. We also provide training to help your team quickly get up to speed with the Genesis system.
How does the pricing work for the White Glove Onboarding Service?
We offer a variety of pricing options depending on the size of your practice and your specific needs. Please contact us directly for a customized quote.